The benefit is that when students go into their profession, they are sensitized to this issue [stereotypes in technology development].

Jun.-Prof. Dr. Maria Wirzberger
Offers
Whether students, teachers, researchers, or employees - critical reflection on intelligent systems concerns everyone. Therefore, here you will find many different offers to initiate and enable this reflection and to cover individual needs. Continuous exchange - in various forms - is also a crucial component for critical reflection and change.
Offerings include, but are not limited to, events, lectures, seminars, workshops, conferences, and more. We are very pleased that there are already some interdisciplinary opportunities in the different subjects, which can be found under the corresponding tabs.
If you know of any other events (or if you are leading one yourself), we would be very happy to hear about them and to get into a conversation about them.
Have fun discovering the exciting offers - and several good impulses for reflecting on intelligent systems and their implications for society.
Contact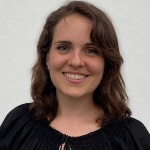 M.A.
Tabea Berberena
Scientific Coordinator of the Teaching and Learning Forum RISING