Welcome to IRIS Public Engagement
IRIS aims to critically reflect on intelligent systems, their foundations, mechanisms, and effects with regard to larger societal contexts. Since the development and use of intelligent systems have the potential to fundamentally change our society, IRIS also seeks to initiate public debates on questions of responsible design of intelligent systems and to provide a forum for dialogue and knowledge transfer between science and society.
Here you can find more details about our diverse, upcoming public engagement activities as well as see what we've offered in the past. Our public events and activities in knowledge transfer are supported by the International Center for Cultural and Technological Studies (IZKT).
IRIS Public Engagement Coordinator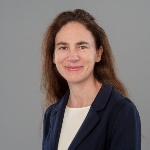 Félicie Kohlrausch
LL.M.
Wissenschaftliche Koordinatorin