Welcome to IRIS Public Engagement
IRIS aims to critically reflect on intelligent systems, their foundations, mechanisms, and effects with regard to larger societal contexts. Since the development and use of intelligent systems have the potential to fundamentally change our society, IRIS also seeks to initiate public debates on questions of responsible design of intelligent systems and to provide a forum for dialogue and knowledge transfer between science and society.
Here you can find more details about our diverse, upcoming public engagement activities as well as see what we've offered in the past. Our public events and activities in knowledge transfer are supported by the International Center for Cultural and Technological Studies (IZKT).
Project "Questions to Colleague AI" during the Science Year 2022 – Participate!
The University of Stuttgart (with IRIS and IZKT) participates in a nationwide initiative that aims to strengthen citizen participation in scientific and political development processes. Our project "Questions to Colleague AI" was developed together with the Hochschule der Medien (Stuttgart Media University). It is one of 25 projects funded by the BMBF (German Federal Ministry of Education and Research).
IRIS Coffee Chats
The IRIS Coffee Chats provide an interdisciplinary, internal university forum for the joint reflection of intelligent systems of various kinds. Here, researchers from the university of all qualification levels and all faculties report on and discuss their research on intelligent systems and reflect on their potential, opportunities and challenges.

The Coffee Chats take place approximately three times a semester, usually online on Tuesdays or Wednesdays from 12.00-13.00 or 13.00-14.00.

If you would like to present your research in this context or suggest a colleague for a Coffee Chat, don't hesitate to contact Dr Kathrin Braun, Center for Interdisciplinary Risk and Innovation Studies (ZIRIUS).
IRIS Public Engagement Coordinator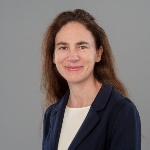 Félicie Kohlrausch
LL.M.
Wissenschaftliche Koordinatorin