Offers
Here you will find existing offers for implementing the reflection on intelligent systems in your event. In addition, you can find here information about events and discussions on current trends, impacts, societal implications, and the latest research on a wide range of topics and key issues.
Critical Reflection Units
coming soon:
The focus of this unit is unconscious bias and its impact on society (using AI as an example).
Information Events
coming soon:
Info event about didactic possibilities to initiate reflection on intelligent systems in teaching.
Discussion rounds/exchange
kommt bald:
Hier können Sie sich untereinander austauschen, Forschung vorstellen und Aspekte von intelligenten Systemen und deren gesellschaftlichen Auswirkungen diskutieren.
Contact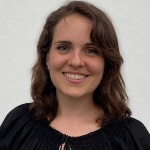 M.A.
Tabea Berberena
Scientific Coordinator of the Teaching and Learning Forum RISING